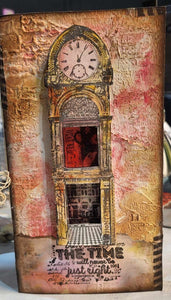 Online Class on Saturday, October 7, 2023, from 2:00 PM to 5:00 PM in a Private Facebook Group
Jump in with both feet and create something beautiful in the PaperArtsy Book Club's online class on October 7th! Come create with Michelle, and get the included PaperArtsy stamp set to give your artwork that extra-special je ne sais quoi. Get ready for a crafting experience you'll never forget!
The Kit includes a full-sized Paperartsy Stamp set, Papers for the journal, Heavy watercolor paper for the cover, a small piece of acetate, Waxed linen thread, and a needle for binding.
Supplies you will need:
Heat Tool
Spray Bottle
Scissors
Bone Folder
Paintbrush
Exacto Knife or craft blade
Surface to cut on
Paper Towels
Awl or Pokey Tool
Stamp Block
Palette Knife
Black Stazon
Foam Tape
Wet glue
Texture Paste (I used Grunge Paste)
Acrylic Paint-4 colors of your choice (I used  Paperartsy Autumn Fire,  Toffee Apple, Toffee, and Haystack)
Watercolors:  I used Lindys Stamp Gang
Alcohol Ink or Copic Marker
Stamp for texture.  I used  Brick Paperartsy MN95