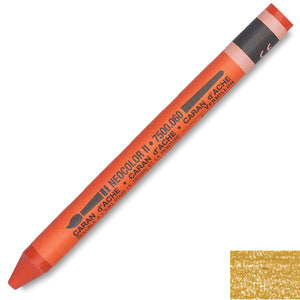 These artist quality watercolor crayons have excellent lightfastness, high pigment concentration, and superior adaptability to several techniques. These qualities have helped to put the Neocolor II crayons in a class of their own.

Caran D'Ache water soluble crayons are softer than pencils, a little denser than regular wax crayons, and work extremely well when manipulated with a wet brush. You can combine wet and dry techniques in the same piece to create a variety of different effects. Because of the very strong pigmentation you can apply dark colors over light and light colors over dark and still get excellent coverage. This opens up a variety layering techniques not otherwise possible.

Try scraping off one or more color layers to create an engraved effect. Or smudge with your fingertips, possible because they are much firmer than oil pastels.
--
➡Color: Light Ochre
➡Type : Water-soluble wax oil pastel
➡Soft, velvety texture, does not crumble
➡Ultra-high pigment concentration, superior covering power, luminous colours, excellent light resistance
➡Applications : Various techniques possible - use to draw wet or dry, rainbow techniques, stencilling, steel engraving, impregnation, watercolour, colour blocks, wash drawings and washes.
➡Individual crayons measure 105 mm in length and 10 mm in diameter (4-1/8" × 5/16").