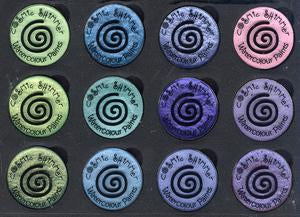 The set contains - 12 iridescent hard-set mica-based paints.

This set of mica-based shimmering watercolor paints is suitable for all types of craft projects, just dip in a wet brush and use it from the tray. Perfect for use with the Cosmic Shimmer water brushes, just fill the brush with water and paint. You could also try applying the paint with different materials such as sponges, stamps, and fabric to create many more paint effects. As mica is a natural product some irregularities or air bubbles may occur in the paint.

Colors Included: Pastel LIme, Sapphire Sparkle, Harebell, Pastel Pink, Golden Mint, Pastel Green, Blue Violet, Pastel Lilac, Emerald Gold, Pastel Aqua, Pastel Blue, and Purple Orchid.

Size: 1" diameter paint pods