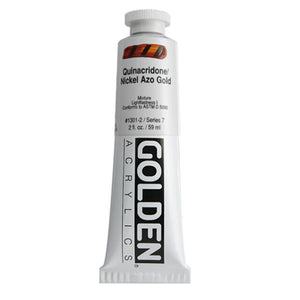 Golden Heavy Body Artist Acrylics are known for their exceptionally smooth, thick, and buttery consistency. They have the ability to "stand up" and retain brushstrokes or palette knife marks on the canvas.
The Golden Heavy Body line also contains the largest assortment of unique pure pigments in a 100% acrylic emulsion vehicle available to professional artists. There are no added fillers, extenders, opacifiers, toners, or dyes.
Each Golden Heavy Body Acrylic color is formulated differently depending on the nature of the pigment. Colors that tolerate higher pigment loads dry to a more opaque, matte finish, while colors that are more reactive and don't accept high pigment loading dry to a glossy finish and tend to be more transparent. Since Heavy Body Acrylics are free from additives (such as matting agents) the gloss of each color will be different.
Golden Heavy Body Artist Acrylics are permanent and lightfast. 
2.0 fluid ounce tube