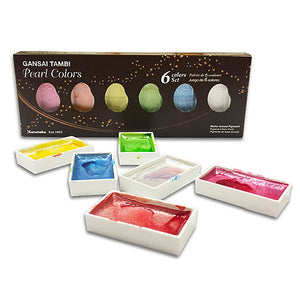 Set of 6 opaque Japanese Watercolors
gem red, gem pink, yellow gold, gem green, gem blue and gem violet.
each pan measures 2 by 1 inch
Gansai Tambi watercolor is a water-based mixture of mica and pigment, which create beautiful luminescent colors. The dense and homogenized pigmentation allows for optimum coverage and a smooth distribution of both color and mica. Each watercolor pan contains a bright, dazzling hue and is perfectly compatible with existing Gansai Tambi paint sets.
--
Try these lush watercolors for sketching, illustration, sumi-e, etegami, ink-like wash painting, and more. All colors are certified non-toxic.