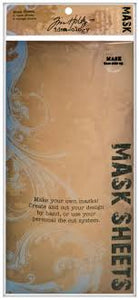 Tim Holtz Idea-ology Mask
A mask is a reverse stencil: instead of a design cut into a flat surface, a mask is a complete shape and you would use inks, paints or other mediums to color around it. Use these blank mask sheets to create your own mask by tracing a design and cutting it out or use your die-cutting system. Includes 2 masks with backer sheets.
Dimensions: 11 3/4 in x 5 7/8 in.