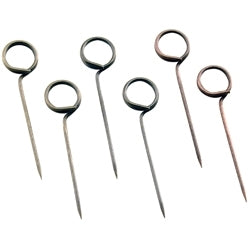 A small slender pin with a split ring for securing notes or memos.
Simplicity has its advantages and these Memo Pins couldn't be more simple. The split ring design on the head of these pins allows you to secure anything from ephemera to tickets to charms and other precious mementos. Pin them through your projects to add a functional and creative attachment element.

You will receive 30 pins in each package (10 nickel, 10 brass and 10 copper). Each Memo Pin measures approximately 1.5 inches tall.