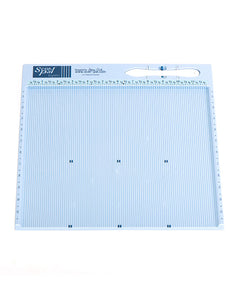 The "Scor-Pal Eighths" scoring board has a slightly textured 12" x 12" scoring surface, with a raised fence at the top and on the left and right sides. Colored ruler marking on the fences are easy to see. This aligns your paper for perfect scoring. No more crooked cards!

When you place your card stock on the scoring surface, you are able to do multiple scores without moving the paper. Grid cards, accordion folds, boxes, etc are scored in seconds.
Grooves are across the board at different intervals. The specialty grooves make card making simple: at 4 1/4" for normal A2 cards; at 2 1/8" and 6 3/8" for gate fold cards and at 3.666" and 7.333" for brochure folding (divides 11" paper into equal thirds). In addition, there are grooves every 1/8" across the board.