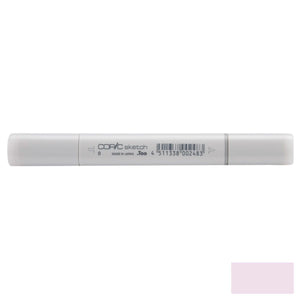 Copic Sketch Markers-Pale Purple SM-RV000
With its outstanding performance and creative versatility, the Copic Marker System provides the ultimate solution to design flexibility and artistic liberty. These markers are fast drying, double-ended, non-toxic marker that come in a vast variety of colors. They are refillable, constructed in a unique design for a more comfortable grip and so they will not roll away from you, fit into a special airbrush system, durable polyester nibs are easily interchangeable and available in nine different weights and styles, electronic production guarantees consistency of both color and output, Precise and positive colored capping system provides for instant color selection, COPIC markers are used by artists and designers worldwide. Imported.
--
Color Code: SM-RV000
Copic Sketch Markers-Pale Purple
See the Copic Sketch Color Chart for the full range of colors.
See the complete color range in the Copic Color Wheel
The Blank Copic Color Chart should you need it.