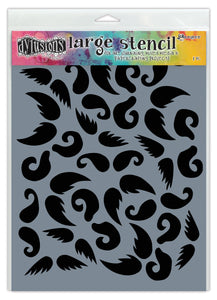 Create layers of colors, texture and design with these stencils from Dyan Reaveley.  They work perfectly with her stamps and sprays.
--
Dyan Reaveley Stencil: Stache of 'Tache
Just like Dyan's stamps, her unique, eclectic style comes through in this original stencil design.
Perfect for card-making, journaling and scrapbooking. Add spectacular charm to your projects by spritzing with ink sprays, pearl mists or color wash. Color with inks, paints or distress with markers and stains.
Package contains one 9" x 12" stencil.