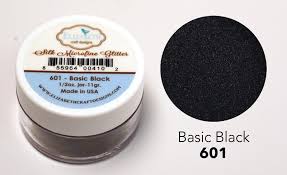 Add silky sparkle to your crafting! Finer than ultra fine glitter, Silk Microfine Glitter provides a soft sheen while filling in the smallest spaces. This Silk Microfine Glitter from Elizabeth Crafts is perfect for card making, scrapbooking, tags, gift bags, mixed media projects and other paper crafts.
Use the microfine glitter with double-sided adhesive sheets and tapes or with any adhesive. Mix the glitter with embossing powder for a special, sparkling effect. Apply the microfine glitter with a glue pen. Die cut shapes from double-sided adhesive sheets, then apply the microfine glitter to the surface before adhering the shape to your project.
Using the polished silk technique will produce spectacular effects: Apply a thick layer of the glitter over your double-stick surface, then before tapping off the excess, rub the glitter into the surface with your finger. Continue rubbing to make sure all the small areas are filled and the glitter has adhered to the surface. Tap off the excess glitter for a polished silk look! And the glitter stays in place—no flaking off!
You'll love applying this Silk Microfine Glitter from Elizabeth Crafts to all your glitzy card making and scrapbooking and for other paper crafts!