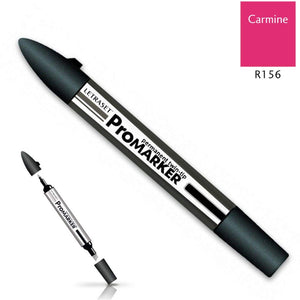 Letraset ProMarkers are the perfect introduction to colouring with alcohol based markers, combining unbeatable performance with outstanding value,contain 70% extra ink as compared to other brands.
They are ideal for all kinds of design, art & craft; including illustration, Manga & Comic Art, Rubberstamping, Scrapbooking. anywhere you need professional looking colour.
The high quality dyes used in ProMarkers ensure flawless colour laydown, consistent coverage and no streaking unlike ordinary felt tip pens or low grade markers. The 148 colours have outstanding vibrancy and tonal variation making them the ideal choice for artists and designers.
ProMarkers feature a fine rounded bullet nib for detailing at one end and a broad chisel shaped nib on the other for colouring in larger areas. ProMarker ink is alcohol based (extremely quick drying) and considered permanent on a variety of different surfaces including paper, card, glass, acetate, plastic, ceramic, wood and metal.
ProMarker inks are translucent and can be overlaid and blended to create additional shades and hues. Going over the same spot creates a darker tone of the same colour. The ProMarker Blender is ideal for softening and merging colours together.