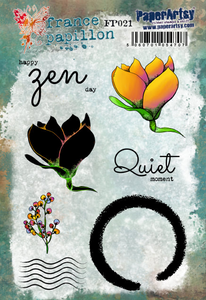 Reserve yours today - we sold out but have more due before the end of the month. 
An A5 size RED Rubber Set of stamps (5" x 7") presented in a hanging bag, on a laminated index sheet for storage. Each image is individually machine trimmed on EZ mount cling foam, ready for immediate use with an acrylic block for stamping.
France Papillon has been designing her own line of products for many years. She is a mixed media artist with a bold design style, and in her newest stamps, you can see a striking, sketched style.