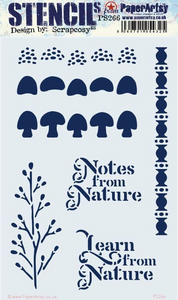 Raquel (Scrapcosy) is passionate about vintage imagery. She has curated her personal collection of vintage ephemera into themes and collages to offer that timeless olde-worlde vibe. Raquel has a You Tube channel, packed with Infusions techniques with her stamps and stencils.
PaperArtsy Stencils are available as Mini size 3.5" x 3.75" (9x9.5cm), regular size 6.5" x 7" (16 x18cm) or Large size 6.25" x9.5" (16x24cm)

Use with paint, Grunge Paste, paint sprays, crayons, pastels, pens, chalks etc. Wonderful on papers, canvas, chipboard and much more. All our top quality stencils are designed to complement stamps in each designer's collection perfectly. The stencils are robust for cleaning up in soapy water, and the mylar is deep enough to allow you to work with texture paste and other thicker mediums. Also ideal for spray Products.

Manufactured in France by PaperArtsy, SARL.