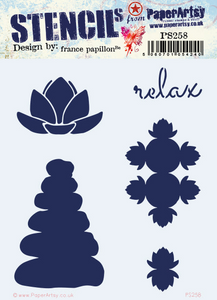 Reserve yours today - we sold out but have more due before the end of the month. 
Coordinates with FP019 Stamp Set.
PaperArtsy Stencils are 6.5" x 7" in size (16 x18cm) Use with paint, Grunge Paste, paint sprays, crayons, pastels, pens, chalks, etc. Wonderful on papers, canvas, chipboard, and much more. All our top-quality stencils are designed to complement the stamps in the collection perfectly.
France Papillon has been designing her own line of products for many years. She is a mixed media artist with a bold design style, and in her newest stamps, you can see a striking, sketched style.