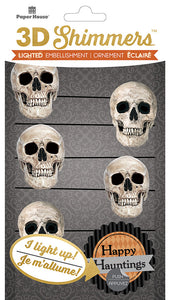 NOTE: THESE ARE DISCOUNTED BECAUSE THEY LIKELY NO LONGER LIGHT UP BUT THEY ARE STILL CREEPY!
Many people have skull garlands for Halloween, but be the first on your block to have a skull garland with eyes that light up! This will definitely ensure the happiest of hauntings on the last day of October.
Dimensions: 4.5" x 8.5"