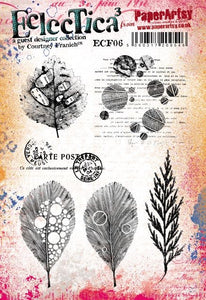 Courtney Franich has designed stamps for PaperArtsy since 2018. Most images are based on content sourced from her photographic exploits. She likes abstract, collage-style imagery, and the elements she creates can be used both individually or collectively to build a collage, or perhaps make a background. Very useful for any mixed media enthusiast.


These stamps are designed exclusively for PaperArtsy SARL by Courtney Franich
An A5 size RED Rubber Set of stamps (5" x 7") is presented in a hanging bag, on a laminated index sheet for storage. Each image is individually machine trimmed on EZ mount cling foam, ready for immediate use with an acrylic block for stamping.