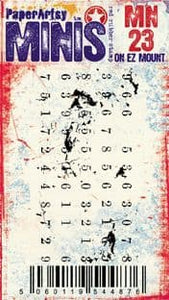 SOLD OUT BUT MORE ARE DUE IN BY THE END OF THE MONTH, AS LONG AS THERE ARE NO DELAYS WITH DISTRIBUTION OR SHIPPING.
Deeply etched Red Rubber Stamp, on EZ mount cling foam ready for use with an acrylic block for a 'handle'. Approximately Credit Card Size. Manufactured in our workshop in France. 
From our Ink and The Dog Collection, this stamp is a great one to create a bespoke background.