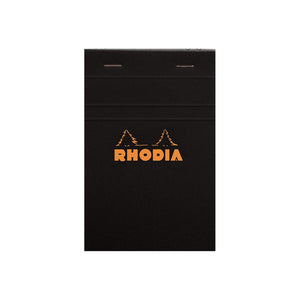 These economical books are a favorite of artists & designers. People love Rhodia webnotebooks for their grids, smooth paper & iconic cover. The stiff back cover makes writing easy and portable. All Rhodia paper is acid-free and ink-friendly.
--
Rhodia Bloc No.14 head-stapled notepad, 110mm x 170mm. Coated card cover flips up and folds back out of the way. Card-backed notebook has 80 micro-perforated detachable sheets of top-quality 80gsm superfine vellum paper. Black cover with orange Rhodia logo.
Available with lined or 5mm squared paper.