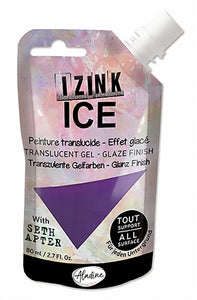 IZINK ICE
Izink ICE is a new and innovative art medium with a glossy finish - like a colored ice cube. This unique gel is translucent, quick drying, permanent, all surface, and available in 18 colors. Meant to be applied with a palette knife or a silicone spatula, ICE is a versatile medium that does many things. It can be spread on a surface evenly and smoothly, becoming a glaze finish - translucent and soft in color tone. Scraped on more loosely, textured surfaces can easily be created with peaks & valleys and color variations. Applied through a stencil, ICE adds a thick, dimensional element to any piece of art.
Hit it with a heat tool and watch it craze and bubble. Use with a brayer and Gel Plate to create gorgeous, translucent layers. It is washable on textiles at 40 degrees with no need for heat setting. It is permanent on Ceramic when heat set in an oven at 180 degrees for 30 minutes.
Colors can be mixed to create custom shades. When you let any layer of one color dry before adding a second layer, you can create color building effects - such as what is seen with layered translucent acrylic paints. Because of its translucent nature, details from lower layers will not be lost. You can work over the surface of ICE with paints, inks, markers, pencils, etc.
Works on All surfaces including Paper, textile, wood, glass and ceramic
ICE comes in a 2.7oz/80ml pouch which allows you to get every last drop.
--
Ice by Seth Apter