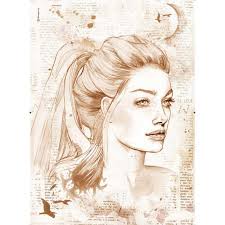 Specialty printed with a lovely range of designs and imagery, Stamperia A3 Rice Paper (11 3/4" x 16 1/2", 28gsm) can be adhered to a variety of surfaces (paper, glass, metal, canvas, wood) allowing you to create all manner of beautiful things.
You can cut or tear the image from the sheet and apply in a single layer, then embellish with our Chipboard Shapes, Watercolor Art Parts, charms, etc.
Adding a touch of glimmer with Stickles, Liquid Pearls, Inka Gold, etc. ratchets up the wow factor. Get really creative and layer the images for an entirely different look! Be sure to use an adhesive suitable for the surface you're applying the images to.
Made in Italy.