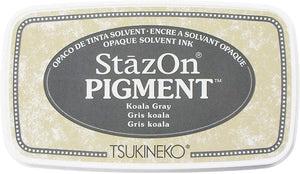 StazOn Pigment inks works on all the surfaces that the original StazOn does and comes in 12 vibrant opaque colors. StazOn Pigment ink pads have an all-new felt pad that produces crisp stamped images and the ink dries quickly on most surfaces

Use on non-porous surfaces such as plastic, metal, glossy papers, and more.

Opaque solvent based ink
Acid-Free and Archival
Made in Japan
Ink pad measures 3.75" x 2.125"