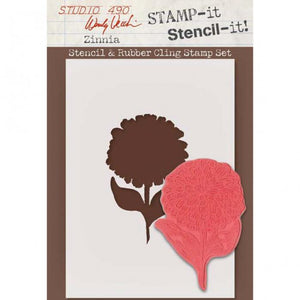 Studio 490 Wendy Vecchi STAMP-it Stencil-it!: Zinnia -
Cling mounted stamp and the corresponding stencil!
Use the stamp alone, use the stencil alone or combine them. Stamp first, then overlay the stencil. Customize with ink, stamping, or embossing paste.
The package contains one 6 3/8" x 4 1/2" stencil and one cling mount rubber stamp to match the stencil design.