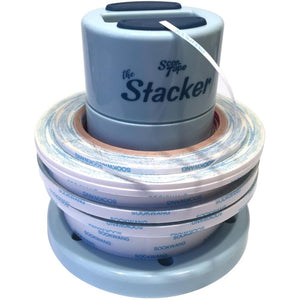 Can't find the roll of tape on your desk?

The Stacker is the answer! It's like having a helping hand!

- A perfect way to store and use Scor-Tape so your rolls can always be found
- Stack multiple widths of tape rolls and works on all brands that have a 3" (75mm) core
- Holds any spools with a 3" core like foam tape
- Solid base with non-skid pads prevents scratches
- Multi-purpose organizer to keep your work surface clear
- Fairly heavy, so stays put on your work table
- Very easy to fill. Aquarium gravel, small pebbles, ball bearings or sand can be used. Liquids cannot be used
- Central storage compartment is perfect for storing your most used tools such as a pencil/pan, small fussy cut scissors, bone folder, ruler etc.
Total Height: 4 7/8"
Column Size: 4 1/4"
Core Size: 3" diameter