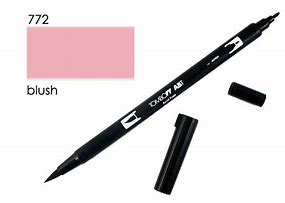 Colorful, Dual-Ended Marker Palettes Sure To Delight!
These versatile, water-based markers are excellent for any art or craft project from drawing and drafting to manga and journaling! The acid free, odorless ink is certified AP non-toxic by the ACMI, making them perfect for small working spaces and also safe for children's use. The dual tip allows for a wide range of applications: the fine nib makes consistent lines ideal for detail work, while the flexible nylon brush tip gives painterly effects with a resilient composition that retains its point over time.

You can even dip the marker into water for subtle washes and watercolor effects, or blend colors together with the Colorless Blender pen. Each marker is 7 3/4" long with a large ink reservoir and a color-coded, slotted cap that won't roll off of inclined surfaces. Available in a wide range of 95 vibrant colors as well as the Colorless Blender, Tombow Dual Brush Pens provide a rainbow of opportunity in virtually any type of art or craft application!
The dual tip allows for a wide range of applications: the fine nib makes consistent lines ideal for detail work, while the flexible nylon brush tip gives painterly effects with a resilient composition that retains its point over time