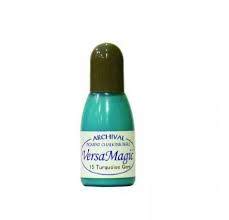 Opaque pigment ink gives you a permanent powder finish, even on dark papers. Perfect for all your decorating needs!
Use VersaMagic on wood, fabric, leather, metal and more. Dries on all types of paper. Drying times vary.
Embossing is optional. 
Colorfast, lightfast, acid free and archival.
Use this to re-ink your VersaMagic Stamp Pad. 
0.7 fl. oz. bottle