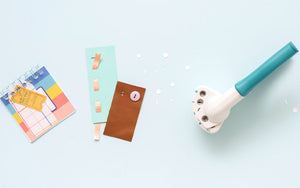 There's nothing better than a perfectly round punch hole exactly where you need it on your project...except for maybe a tool that easily punches five different hole shapes! Get your hands on the We R Crop-A-Dile Multi Punch for all your punching needs!
Contents: One Crop-A-Dile Multi Punch tool
Decorative Punch (heart, flower, star, hexagon, arrow),
Features:
Easily select and punch 5 different hole sizes
Guide lines for measuring 0.5", 0.75", and 1" reach for the punch
Comfort grip handle
Strong punch design requires minimal effort
Swivel function to choose between punch sizes
Compatible with a variety of materials
From a tiny 1/16" sized hole all the way up to a nice 5/16" hole, you're going to love the versatility of having 5 different options all in the palm of your hand. The head of the Crop-A-Dile Multi Punch swivels back and forth with ease so you can choose your hole size with a flick of the wrist. The comfort grip handle paired with the strong punch design makes sure you get a perfect punch every time!
What materials can you punch through?
Paper
Cardstock
Chipboard
Felt
Fabric
Thin tin
Leather
Plastic
Acetate
Foam sheets
Need some assistance with eyeballing the reach on your material? No problem! The Multi Punch has easy-to-read guidelines on the head of the tool so you can see how far in you're punching. You can go only 1/2" inch in, midway at 3/4" or all the way up to 1". You decide!
You're going to be thrilled to have 5 punch sizes all in one handy dandy tool. Whatever you call it, you're going to love it! 
Number of pieces: 1